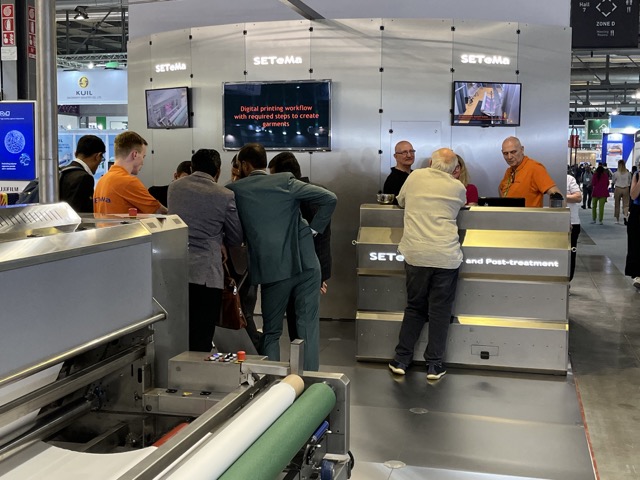 ITMA 2023 Milan
SETeMa BV was able to participate in ITMA 2023 for the first time.
The machine we exhibited was a combination of our E-Pad for pre-treatment, a II-Fix as a dryer and an Ascending Batch Winder to produce straight rolls. Whilst we also have fixation machines in the form of textile steamers, open width washing machines and various fabric handling machines, the pre-treatment step is often mandatory or at least beneficial for a good result. The latest pigment applications with pre-treatment at the printer might be OK, but offline pre-treatment or application of a textile finish can all be done on the E-Pad combined with any of our dryers, which is not possible on the printers itself. The lower overall costs of our system might also be a benefit.
While lots of people know digital printing, we still get a lot of questions about each required step. We took this as a starting point to make a video with each step involved. In this video our machines are running the required steps starting with pre-treatment followed by fixation and finally washing. Also the steps of design, printing and garment manufacturing are shown.
Our booth was all made of stainless steel which we recycle into parts for our machines, in contrast of all the single time booths which are scrapped. It looked expensive but is not gone to waste.