I-Fix
A COMPLETE AUTONOMOUS HEAT FIXATION UNIT THAT CAN BE COUPLED IN–LINE TO EACH DIGITAL PRINTER.
Textile printing and heat fixation are automatically synchronised to a one step process. The I-Fix unit is developed for the fixation of disperse direct and disperse transfer/sublimation dyes.
The I-Fix is equipped with an electrically heated, aluminium drum, guaranteeing an even temperature in the full width of the drum and a quick heat transfer to the textile.
Control-unit
The I-Fix is delivered complete with its own embedded control-unit. The fixation chamber is equipped with an integrated exhaust to remove hazardous solvents, which evaporate easily at high fixation temperatures from the ink, thereby keeping the working environment and printer clean.
Temperatures
With temperatures between 50 and 220°C and dwell times from 10 seconds till several minutes the I-Fix is suitable for a wide range of drying and fixation applications.
I-Fix series
The I-Fix series is available in a 1.85, 2.50 and 3.40 meter width and is made of 304 and 316 stainless steel and a coated aluminum drum.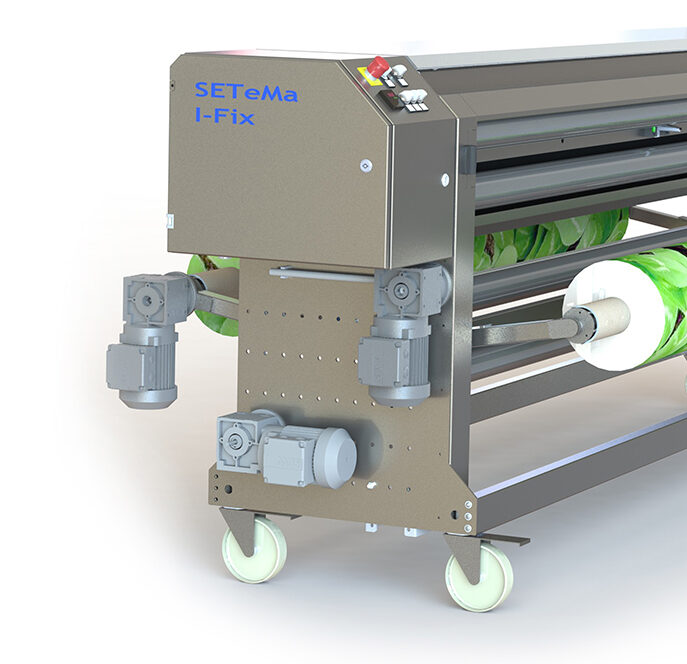 An I-Fix-2500 in combination with a Printer